If you would like to help on the Alateen committee, contact Sunee F. (Sponsor) by phone at 310.650.7211, fill out the volunteer sign-up form, or send an email message.
Alateen program has been approved.
Help spread the word that we are holding an Alateen program at the convention.  Click on the image below to download the flyer and share it at your meetings and with your friends!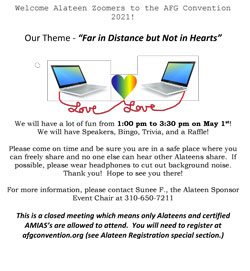 Alateen Program -

"Far in Distance but Not in Hearts"
This is a closed meeting which means only Alateens and certified AMIAS's are allowed to attend.  To obtain Zoom meeting information, contact:
Sunee F (Sponsor)
(310) 650-7211
suneefoley@gmail.com
Linda T (Sponsor)
(714) 357-2306
ltetteme@gmail.com
Saturday, May 1, 1:00 PM - 3:30 PM
Opening Readings
Speaker / Sharing (15 Minutes) - It's a Surprise
Bingo Game (30 Minutes)
Speaker  / Sharing (15 Minutes) - It's a Surprise
Trivia Game (30 Minutes)
Speaker (20 minutes) -  It's a Surprise
Speaker (20 Minutes) - It's a Surprise
Raffle (10 Minute)
Closing Reading