If you would like to be of service, contact Diane P. (Chairperson) by phone at 562.916-5813, fill out the volunteer sign-up form, or send her an email message.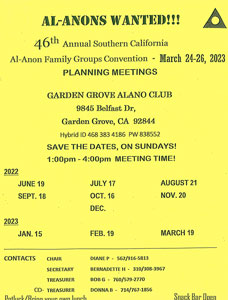 The planning meetings for the convention are held on the 3rd Sunday of every month from 1:00 - 4:00 pm at:
Garden Grove Alano Club
9845 Belfast Dr
Garden Grove, CA 92844
You can also participate in the planning meeting via Zoom (but we would prefer to see you in person!):
Meeting ID: 468 383 4186
Password: 838552
All Al-Anon members are welcome to attend the planning meetings. Bring a friend along to help!
2022 Planning Meetings Dates:
June 19
July 17 (Turnover Meeting)
August 21
September 18
October 16
November 20
December 3 (9:00 AM - hotel walk-through)
December 18 (Zoom only)
2023 Planning Meetings Dates:
January 15
February 19
March 19