If you would like to be of service on the Boutique committee, contact Dee F. by phone at 949-307-4323, fill out the volunteer sign-up form, or send her an email message.
Help spread the word that the Boutique committee is looking for donations.  Click on the image below to download the flyer and share it at your meetings and with your friends!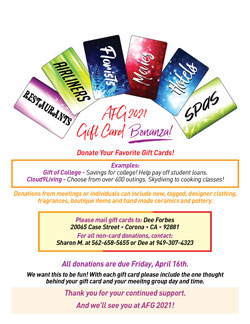 Examples:
Gifts of College - Savings for college! Help pay off student loans.
Cloud9Living - Choose form over 600 outings. Skydiving to cooking classes!
Donations from meetings or individuals can include new, tagged, designer clothing, fragrances, boutique items and hand made ceramics and pottery.
Please mail gift cards to: Dee Forbes
20065 Case Street Corona, CA 92881
For all non-card donations, contact:
Sharon M at 562-658-5655 or Dee at 949-307-4323
All donations are due Friday, April 16th.
We want this to be fun!  With each gift card please include the one thought behind your gift card and your meeting group day and time.
Thank you for your continued support.
And we'll see you at AFG 2021